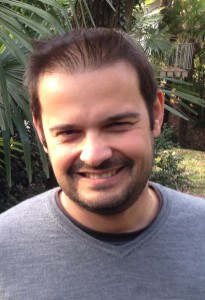 Laurent Sfumat, Member of the Swiss Association of Translators, Terminologists and Interpreters (ASTTI) and founder of A à Z Traductions
Personal journey
Educational background
In 1992, I received a diploma in business in Monthey, Switzerland. Then I went to the United States to perfect my English for one year. Wishing to pursue an American education, I enrolled at Long Beach City College, in California. I graduated with a degree in international business in 1997.
First steps in translation
Back in Switzerland, I worked as an English-language editor for a start-up in Martigny, then for the World Economic Forum in Geneva. In 2002, I decided to go back to school. I went to Italy, where I obtained a diploma in Italian language and culture. I attended an English-Italian translation course and I started in the translation business after graduation.
Experience and focus areas
During my job search, I replied to an ad from a translation agency. I was first asked to translate mainly technical documents such as user guides and manuals for automakers. Then I met a translator specialised in patents. She trained me in this particular field and our collaboration lasted for several years. I've also translated several websites and, in the last four years, I've handled banking reports.
Why A à Z Traductions?
Over the years, I've worked on numerous occasions with other translators. The complexity and breadth of some projects require the involvement of several translators, editors and proofreaders. Thus I decided to bring together my network under one roof – A à Z Traductions – which has improved both the working conditions and the quality of the outputs for clients. All my collaborators have many years of translation experience and have been carefully selected. Their work is reviewed at the end of each job.